polycube - Towards Integrated Mental Models of Cultural Heritage Data
Aim
This interdisciplinary project investigates the potential of interactive information visualizations for public access to digital cultural collections: Space-Time Cubes are assumed to support casual users in their exploration of such collections, in their comprehension of multidimensional metadata, and in the construction of an integrated mental model. In a user-centered design process information visualizations will be developed and empirically evaluated in a series of experiments.
Web-based databases of museums' and cultural institutions' collections enable fast access to important cultural assets for everyone: Millions of paintings, sculptures, music, and artworks can be reached with only a few clicks. Current research shows that interested visitors like to explore digital collections - often without a concrete goal. They like their observations to add up and make sense and to learn something new. Traditional websites focus on professional users, hence often knowledge of cultural history or the structures of the database are needed to effectively navigate the enormous amount of data. Diagrams and visual overviews can highly improve the accessibility to these collections.
In the project Towards Integrated Mental Models of Cultural Heritage Data one particular method of visualization will be investigated and further developed: the space-time cube (STC) displays spatial distributions as well as the temporal developments in a combined view. It could provide a good overview of cultural heritage data and show the geographical, chronological or topic-specific context of each single element at a glance. The project team will analyze if this method actually aids in exploring the data and in understanding the relations between the data. In cognitive science this comprehension process is defined as the construction of a mental model. A higher number of connections between single bits of information within the mental model equal a better understanding of the data.
Hypothesis: We assume that visualization methods based on the STC improve the construction of a mental model by displaying spatial and temporal information in an integrated way.
Methods: The interdisciplinary project combines approaches of computer science and cognitive science. In a user-centered design process information visualizations will be developed and empirically evaluated through experiments.
Innovation Aspects: The project team develops new methods based on the STC to provide a positive learning experience for non-professional users when exploring cultural heritage data. The research will provide ground-breaking results about the comprehension and exploration of visually depicted information in cultural contexts.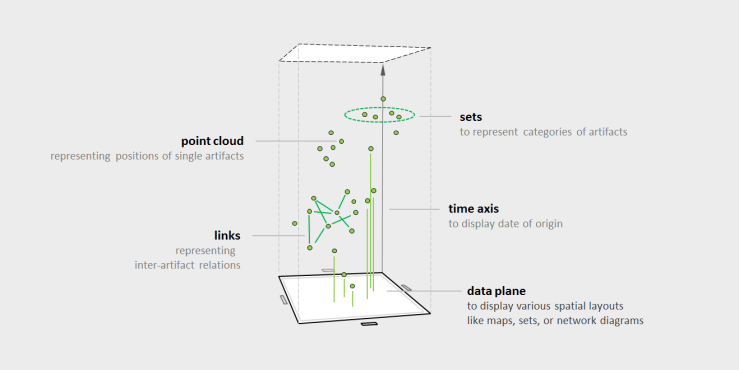 Publications
| | |
| --- | --- |
| | Velitchko Filipov, Alessio Arleo, Paolo Federico, Silvia Miksch, "CV3: Visual Exploration, Assessment, and Comparison of CVs", Computer Graphics Forum, vol. 38, pp. 11, 2019. paper |
| | Eva Mayr, Saminu Salisu, Velitchko Filipov, Günther Schreder, Roger Leite, Silvia Miksch, Florian Windhager, "Visualizing Biographical Trajectories by Historical Artifacts: A Case Study based on the Photography Collection of Charles W. Cushman", , 2019. |
| | Saminu Salisu, Eva Mayr, Velitchko Filipov, Florian Windhager, Roger Leite, Silvia Miksch, "Shapes of Time: Visualizing Set Changes Over Time", SetVA - Set Visual Analytics Workshop at IEEE VIS 2019, 2019. |
| | Florian Windhager, Paolo Federico, Günther Schreder, Katrin Glinka, Marian Dörk, Silvia Miksch, Eva Mayr, "Visualization of Cultural Heritage Collection Data: State of the Art and Future Challenges", IEEE Transactions on Visualization and Computer Graphics, vol. 25, pp. 20, 2018. paper |
| | Natalia Andrienko, Tim Lammarsch, Gennady Andrienko, Georg Fuchs, Daniel Keim, Silvia Miksch, Alexander Rind, "Viewing Visual Analytics as Model Building", Computer Graphics Forum, vol. 37, pp. 275–299, 2018. paper |
| | Florian Windhager, Paolo Federico, Saminu Salisu, Matthias Schlögl, Eva Mayr, "A Synoptic Visualization Framework for the Multi-Perspective Study of Biography and Prosopography Data", Proceedings of the 2nd IEEE VIS Workshop on Visualization for the Digital Humanities (VIS4DH'17), pp. 5, 2017. paper |
| | Eva Mayr, Paolo Federico, Silvia Miksch, Günther Schreder, Michael Smuc, Florian Windhager, "Visualization of Cultural Heritage Data for Casual Users", IEEE VIS Workshop on Visualization for the Digital Humanities, 2016. paper |
| | Florian Windhager, Paolo Federico, Eva Mayr, Günther Schreder, Michael Smuc, "A Review of Information Visualization Approaches and Interfaces to Digital Cultural Heritage Collections", Proceedings of the 9th Forum Media Technology (FMT2016), pp. 74–81, 2016. paper |