EviGuiDe –  Embedding the Evidence Information in Computer-Supported Guidelines into the Decision-Making Process
Funding
This project has been supported by "Fonds zur Förderung der wissenschaftlichen Forschung FWF" (Austrian Science Fund), grant L290-N04.
In this project we propose a methodology that supports guideline users during the decision-making process on the basis of a semi-formal representation of the evidence information that can be found in Clinical Practice Guidelines (CPGs). A semi-formal representation is required to handle evidence information in computer-interpretable guideline representation languages. For this purpose, we have developed a meta schema that covers various kinds of grading systems including graded and ungraded evidence informaton. The classification of different recommendations in CPGs are one of the most important information sources to use. However, there is a lack of consensus amongst guideline developers, regarding those classification schemes. To address this problem, we mapped various kinds of grading systems into our meta schema. Furthermore, we extended two guideline representation languages (Asbru, PROforma) to model our meta schema.
Finally, we present the results of our qualitative study we performed with physicians, guideline developing organizations, and guideline representation language developers to examine the correctness, feasibility, and understandability of our meta schema and language extensions. The results of our evaluation indicate that using a semi-formal representation of the evidence information is of particular importance to facilitate the decision-making process.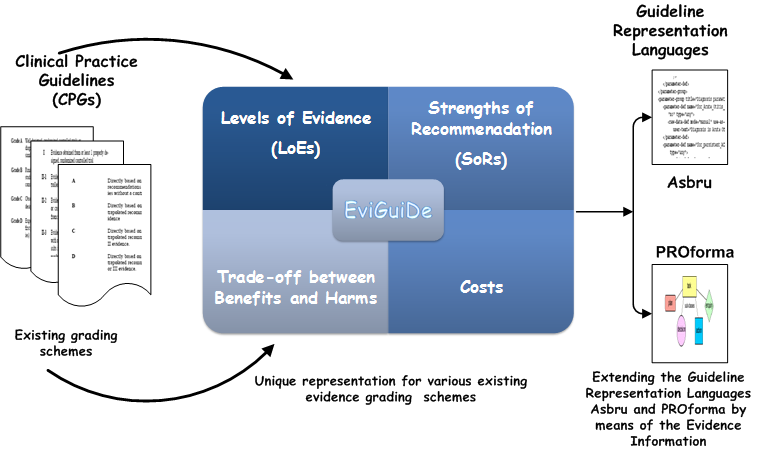 Figure 1: Concept of EviGuiDe
Publications 

Öztürk, A.; Kaiser, K.; Martini, P.; Miksch, S.: Embedding the Evidence Information in Guideline Representation Languages. In P. Kokol, V. Podgorelec, D. Micetic-Turk, M. Zorman, M. Verlic (ed.); IEEE Computer Society, 20th IEEE International Symposium on Computer-Based Medical Systems (CBMS'07), Maribor, Slovenia, June 2007; ISBN 0-7695-2905-4; 512-517.

Kaiser, K.; Martini, P.; Miksch, S.; Öztürk, A.: A Meta Schema for Evidence Information in Clinical Practice Guidelines as a Basis for Decision-Making. In K. Kuhn, T. Y. Leong, J. Warren (eds.); 12th World Congress on Health (Medical) Informatics (Medinfo'2007), Brisbane, Australia, IOS Press, Studies in Health Technology and Informatics, Volume 129 (2007), ISBN 978-1-58603-774-1; 925 - 929.

Öztürk, A. Embedding the Evidence Information in Computer-Supported Guidelines into the Decision-Making Process; PhD Thesis, Institute of Software Technology & Interactive Systems, Vienna University of Technology, May 2007.