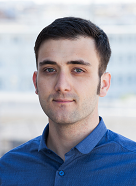 Address: 

Favoritenstraße 9-11

, A-1040 Vienna, Austria
Room: 
HE 01 32
Email: bors@ifs.tuwien.ac.at
Phone.: +43 (1) 58801 - 188214
Fax.: +43 (1) 58801 - 9188214
Function: Research Assistant at CVAST
Research Gate ~ Google Scholar
latest update:
21
.08.2018
Research
Visualizing Data Quality

Data Quality Metrics - Indicating the Quality of a Data Set through providing overview information of specific data characteristics
Time-oriented Data Cleansing - Exploiting the specifics of time-oriented data sets to inform users about specialized quality information and cleansing operations
Provenance from Data Quality Assessment

​Data Cleansing and Profiling Operations

Development of a Data Set

Development of robust visualization techniques fitted for providing overview information of tabular data sets
Visualization of Uncertainty

Quantification of implicit uncertainty information
Development of visualization techniques for types of uncertainty
Technical Interests
Development

Web-Development -

JS

,

AngularJS

,

D3

, ...

Java, Mobile Development

Visualization in Web-Environments

Data

​Uni- and multivariate

time series and 

t

ime-oriented data

Open data initiatives

Personal Data - private data gathered from fitness tracking, manual logging (personal health)
Applications

​

Data Transformation Applications

Cloud/Web Applications

Collaboration-oriented environments

Uncertainty aware visualizations

Visual interfaces for segmenting and labeling time series
Students
If you are interested in the topics shortly outlined above, please contact me and we will arange a personal meeting to talk about ideas how you can contribute and complete your Master's or Bachelor's thesis.
Thomas Ziegelbecker
Project: A Visual Approach for Exploring Quality Problems of Multivariate and Time-Oriented Data
Duration: Feb 2014 - Oct 2016
Code: https://github.com/zietho/ieg-dqvis
Christian Dröscher
Project: Integrating dedicated time-oriented data transformations into OpenRefine
Duration: Feb 2015 - Jan 2017
Code: github